Linda Waldherr
Begin of page section: Contents: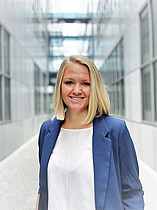 Linda Waldherr, MSc PhD.
Division of Medical Physics and Biophysics
Gottfried Schatz Research Center
Medical University of Graz
Chemo- and immunotherapy are two powerful therapeutic interventions to fight various cancers. However, synergetic effects between these two cancer therapies are largely hampered by the fact that classical systemic chemotherapy not only targets tumor cells, but often interferes with the alarmed immune system. To synergize these two therapeutic strategies, local chemotherapy is a powerful tool to increase both cytotoxic effects in a confined target area and to boost immunotherapy, while the systemic burden is kept low. This is especially of importance for therapeutically exhausted cancer patients or those suffering cancer-associated cachexia, as they are either resistant to- or cannot pursue classic anticancer treatment.
We envision an ELectroPHoretic Implant, called "ELPHI", for local chemotherapy, which, when activated, constantly administers therapeutic drug concentrations over a predefined period of time and causes immunogenic cancer cell death. With ELPHIs we gain tight control over long-term chemotherapy regimens, drug concentration profiles and cytotoxicity towards tumors. The combination of efficient induction of local tumor cell death with minimum systemic drug burden stimulates the immune system and allows the buildup of strong, long-lasting and specific anti-tumor responses. This anti-tumor effect shall be further boosted by combining ELPHI-mediated chemotherapy with immunotherapy.
By developing a personalized multi-level treatment tool for chemo-tuned immunotherapy, we aim to potentiate the efficacy of both approaches and to reduce cytotoxic- and immune-related side effects. In the long run we foresee an ELPHI implant for finely-tunable, chronic chemoimmunotherapy that can be used for treatment of therapeutically-exhausted patients.
End of this page section.
Go to overview of page sections.
Begin of page section:
BioTechMed-Graz Coordination Office
Mozartgasse 12/II
8010 Graz
Julia
Rohrer
On maternity leave
End of this page section.
Go to overview of page sections.